Back
Chiesa S.Agostino e S.Lorenzo

Privacy Policy
---
Testi concessi dall'Archeologa Patrizia Noto

SiciliaAntica
Associazione per la tutela e la valorizzazione dei Beni Culturali ed Ambientali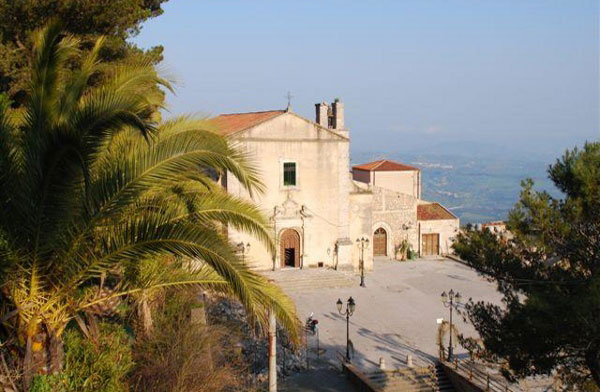 Secondo la tradizione la chiesa di Sant'Agostino fu fondata dai Padri agostiniani nel XII secolo, tuttavia del complesso medievale resta soltanto il campanile abbellito da bifore separate da colonnette, di cui una ornata da capitello in porfido nel tipico stile normanno. Il prospetto della chiesa presenta un portale ed una finestra riconducibile allo stile barocco. La vicina chiesa di San Lorenzo mostra invece un portale riconducibile al XV secolo. Di notevole pregio artistico e storico risulta essere il "Compianto sul Cristo morto", gruppo in terracotta policroma (otto statue a grandezza naturale e ordinate ancora nella originaria disposizione) eseguito da Antonino Ferraro nel 1552, conservato nell'ultima cappella a sinistra della chiesa di Sant'Agostino. Il "Compianto sul Cristo morto" era collocato originariamente nella cappella della chiesa di San Lorenzo e successivamente fu spostato nella cappella laterale destra che arreca ancora oggi un affresco realizzato quasi sicuramente dal figlio del Ferraro, Orazio.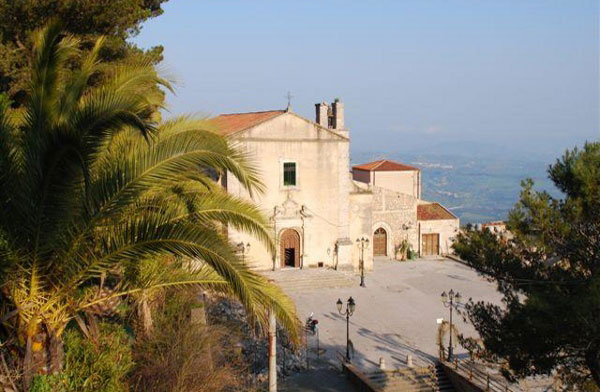 According to tradition, the church dedicated to Saint Augustine was founded by the Augustine Fathers during the twelfth century. However the only remaining structure from the old medieval building is the bell tower, enriched by mullioned windows separated by columns, one of which is decorated with a Norman style capital in porphyry stone. The façade of the church includes a portal and a rose window ascribable to the Baroque style. The near by church of Saint Lawrence contains a portal dating to the fifteenth century. An artifact of remarkable value is the "Mourning over the Dead Christ", a polychrome terracotta group of eight full-size statues, still disposed in the original order. The grouping was made by Antonino Ferraro in 1552 and is preserved in the last chapel on the left in Saint Augustine Church. The "Mourning over the Dead Christ" was placed in the chapel of the church of Saint Lawrence, and later was moved to the right side chapel, and decorated with a fresco, presumably made by the son of Ferraro, Orazio.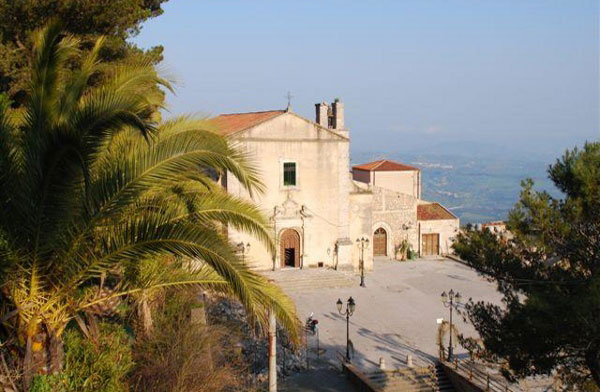 Según la tradición, la iglesia dedicada a San Agustín fue fundada por el Padre Agustín en el siglo XII. Sin embargo, la única estructura que queda del antiguo edificio medieval es la torre del campanario, enriquecida por las ventanas con parteluces separadas por columnas, una de ellas está decorada con un capitel de estilo normando en piedra de pórfido. La fachada de la iglesia incluye un portal y un rosetón atribuible al estilo barroco. Cerca de la iglesia de San Lorenzo existe un portal que data del siglo XV.
Un artefacto de valor notable es el "Duelo sobre el Cristo muerto", un grupo de terracota policromada de ocho estatuas de tamaño natural,  dispuesto en el orden original. La agrupación fue realizada por Antonino Ferraro en 1552 y se conserva en la última capilla a la izquierda en la Iglesia de San Agustín. El "Duelo sobre el Cristo muerto " se colocó en la capilla de la iglesia de San Lorenzo, y más tarde se trasladó a la capilla lateral derecha, y fue decorado con un fresco, supuestamente hecho por el hijo de Ferraro, Orazio.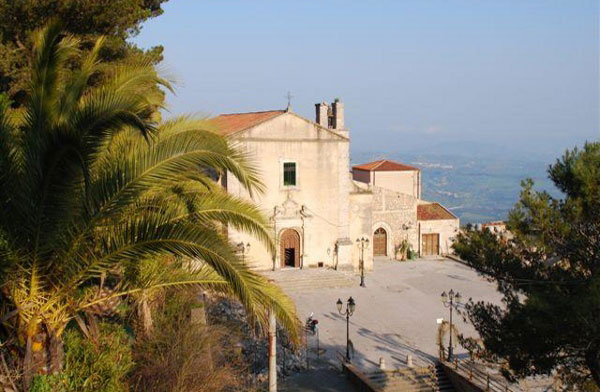 Die Kirche St. Franziskus von Assisi wurde in das 1614 gegründete Kapuzinerkloster eingebracht. Im Inneren der einschiffigen Kirche kann man ein Altarbild von Fra Felice aus Sambuca aus der 2. Hälfte des XVIII. Jahrhunderts bewundern. Es zeigt die Madonna mit dem Kind und zu ihren Füßen Heilige und Kapuzinermönche bei der Anbetung. In einer Seitenkapelle findet man einen monumentalen, fein geschnitzten Nussbaumaltar voller Skulpturen, der die Holzschnitzkunst des achtzehnten Jahrhunderts repräsentiert. Im Inneren befindet sich eine große Urne mit einer Reliquie von Sant'Onorato, den ein normannischer Soldat in der Nähe der Kirche enthauptet hatte. Den Hauptaltar schmückt das schöne Holzkreuz "Il Dio Vivo", ebenfalls aus dem XVIII. Jahrhundert. Im gleichen Komplex befinden sich angrenzend Katakomben, welche die "modernen" genannt werden und die dank der Kapuziner vom XVI. bis zu Ende des XIX. Jahrhunderts benutzt wurden.