Back
Chiesa Colleggio di Maria - Sant'Anna
Privacy Policy
---
Testi concessi dall'Archeologa Patrizia Noto

SiciliaAntica
Associazione per la tutela e la valorizzazione dei Beni Culturali ed Ambientali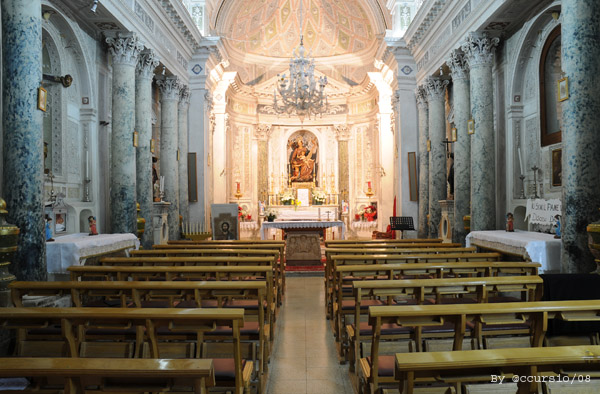 nel pieno centro abitato di Sant'Anna si può ammirare il Collegio di Maria con annessa la piccola chiesa seicentesca di Santa Maria del Fervore che al suo interno conserva, ai piedi dell'altare maggiore, un frammento di mosaico romano databile tra la fine del V e gli inizi del VI secolo. L'iconografia del frammento è piuttosto rara,  infatti nei singoli riquadri che formano un rettangolo di m. 1,80x0,66 trovano spazio un canestro, due pelte contrapposte culminanti da doppia voluta ed il motivo vegetale rappresentato da quattro fiori di loto stilizzati ed alternati a quattro petali lanceolati.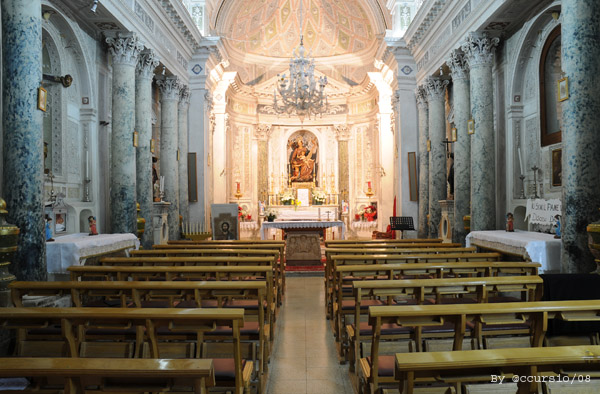 In the town center of the village of Sant'Anna there is Mary's College. Annexed to it there is the small seventeenth century church of Holy Mary of Fervor. In its interior near the major altar is a fragment of a Roman mosaic dating from the 5th or 6th centuries. The fragment, 1.80m (70in) long by 0.66m (26in) wide, shows in each frame rare figures such as a basket, two opposing shields climaxing in a double coil and the vegetable subjects that are four stylized lotus flowers alternated by four spear-shaped petals.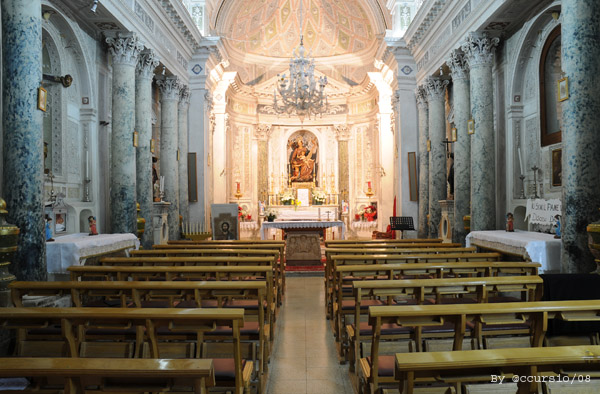 El Colegio de María se encuentra en el casco urbano de la localidad de Sant'Anna existe. Como anexo a ella se encuentra la pequeña iglesia de Santa María de Fervor siglo XVII. En su interior, cerca del altar mayor se encuentra un fragmento de un mosaico romano que data de los siglos quinto y sexto. El fragmento, de 1.80m (70IN) de largo por 0.66m (26 pulgadas) de ancho, se nota en la estructura de cada figuras rara, como si de una especie de cesta se tratara, también dos escudos opuestos culminando en una doble bobina y los materiales vegetales formados por cuatro flores de loto estilizadas alternadas por cuatro pétalos con forma de lanza.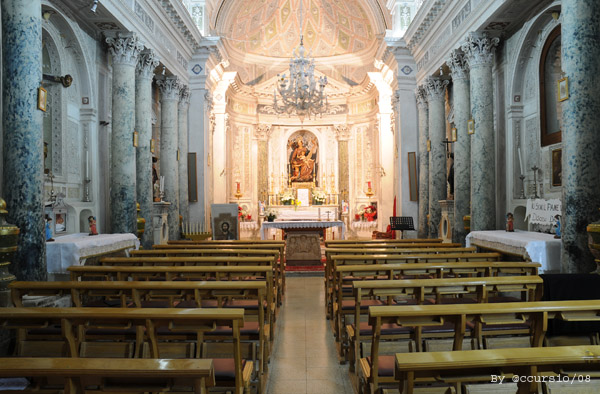 Inmitten der Stadt Sant'Anna kann man das Collegio di Maria mit der benachbarten, kleinen Kirche Santa Maria del Fervore aus dem XVII. Jahrhundert bestaunen. Sie birgt im Inneren am Fuße des Hauptaltars ein Fragment eines römischen Mosaiks, datiert aus dem späten V. bzw. dem frühen VI. Jahrhundert. Die Ikonographie des Fragments ist äußerst selten: In den einzelnen Quadraten, die ein Rechteck von 1,80x0,66 m bilden, findet sich ein Korb mit zwei gegenüberliegenden doppelten Windungen und einem Pflanzenmotiv, das aus vier stilisierten Lotosblüten im Wechsel mit vier lanzenförmigen Blütenblättern besteht.