Back
Pirtusu

Privacy Policy
---
Testi concessi dall'Archeologa Patrizia Noto

SiciliaAntica
Associazione per la tutela e la valorizzazione dei Beni Culturali ed Ambientali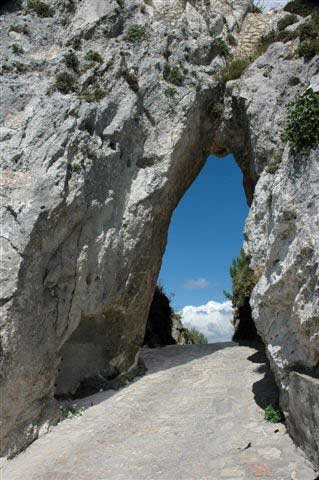 La porta rupestre è un unicum, una porta naturale che si fa spazio tra le rocce e che mette in contatto due versanti (Sud-Nord). Ai due lati contrapposti si trovano a destra una tomba a grotticella ed a sinistra una cavità anch'essa destinata ad uso funerario e trasformata in età bizantina in una cappella votiva, come testimoniano le tre nicchie simmetriche ricavate nella parte alta della tomba stessa. Attraversarla rende il paesaggio ulteriormente suggestivo.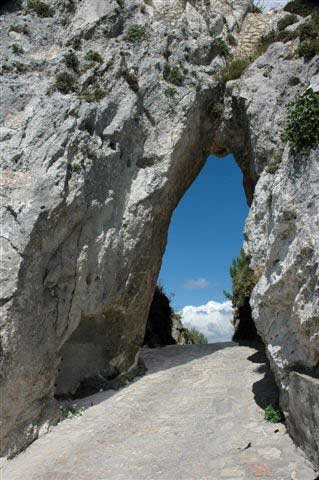 "The hole": this rocky passage is a unique, natural door that opens up among the rocks and that connects both sides of the town south to north. Looking north, from the southern side, there is a cave tomb on the right, while on the left is visible another cavity, probably originally another tomb, but during the Byzantine era was transformed into a votive chapel, how it is showed by the three symmetrical small apsis, carved on the top end of the old tomb. Going through the arch makes the landscape even more spectacular.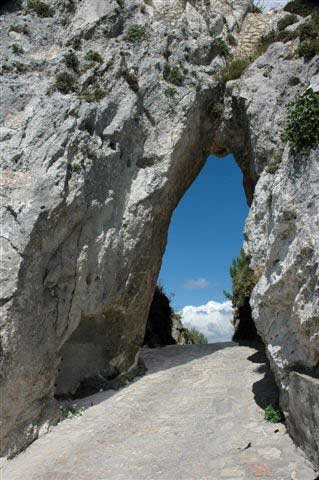 Este pasaje rocoso es una puerta única y natural que se abre entre las rocas y que conecta ambos lados de la ciudad de sur a norte. Mirando hacia el norte, desde el lado sur, hay una tumba de la cueva a la derecha, mientras que a la izquierda es visible otra cavidad, probablemente otra tumba original, pero durante la época bizantina se transformó en una capilla votiva, cómo se demostró por los tres pequeños ábsides simétricos, tallados en el extremo superior de la antigua tumba. El paso por el arco hace que el panorama sea aún más espectacular.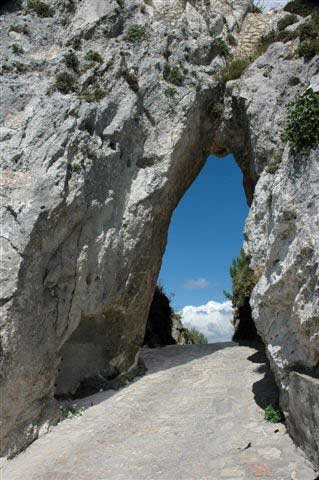 Das Felsenportal ist ein Unikat, eine natürliche Tür zwischen den Felsen, die die beiden Seiten (Süd und Nord) verbindet.